Link Insertions, also known as niche edits, is a link-building method that involves the relevant insertion of a hyperlink leading to your website into the existing content of another site.
When you snag a link from a page that's already showing up in search results and getting traffic, you can start getting some of that traffic too. Imagine, for example, getting a link from a HubSpot page to the Editorial.Link site, especially if that HubSpot page is pulling in 7.1K visitors.


Another big plus of Link Insertions compared to other ways of building links is how cost-effective they can be. With this strategy, you don't have to worry about writing new content for guest posts because you're using articles that already exist.
Link Insertion or a Guest Post: Which Way to Choose?
Both Link Insertion and Guest posting are great for building links, but they differ in some important ways:
Guest Posting:
Pros:
Full control over the content and anchor text;
Offers the opportunity for maximum relevance as you are creating tailored content.
Cons:
Difficult to scale, especially on high-authority sites with substantial traffic and domain authority;
Many authoritative sites, like monday.com, are likely to reject guest post submissions since they often have specific content strategies or do not accept external contributions.
Link Insertion:
Pros:
Full control over the content and anchor text;
Offers the opportunity for maximum relevance as you are creating tailored content.
Cons:
Difficult to scale, especially on high-authority sites with substantial traffic and domain authority;
Many authoritative sites, like monday.com, are likely to reject guest post submissions since they often have specific content strategies or do not accept external contributions.
So, if you're eyeing a big-name site such as monday.com, which attracts substantial traffic and holds a high domain authority, guest posting might not be the best choice. These sites often have strict policies against accepting external guest posts.
In this case, link insertion is a much more practical approach.
💡Pro Tip:
If you're looking to build links on a site like monday.com, try using a search query like site:monday.com link building. This helps you find pages on the site where adding a reference to your content could be beneficial. You would then need to reach out to the site owners or editors to discuss the possibility of adding your link.


Is Link Insertion Effective Strategy?
Unfortunately, not every business is a perfect fit for Link Insertions as a backlink strategy, but it works exceptionally well for those with active blogs and a ton of pages.
If your business keeps a blog updated or has a bunch of content-rich pages, this strategy can be a great fit. These types of sites offer a diverse range of topics and articles that make finding a good match more likely.
The more pages your site has, the better your chances of finding sites willing to insert a link for you.
This strategy tends to work wonders for many SaaS businesses, often delivering solid results through this approach.

Jakub Rudnik from Scribe is a great example of someone who made skillful use of link insertion. He managed to secure about 1,000 links from reputable sites such as HubSpot, G2, and Venngage. This strategy had a huge impact on blog traffic, taking it from zero to 75k.
How to Find Suitable Sites for Link Insert?
Now, let me tell you about sniffing out chances for link insertions. I've got a few tricks, like doing a good ol' Google search and site-specific searches, checking out what your competitors are up to, and taking a stroll through Ahrefs' Content Explorer. Here's how to use each method:
Google Search:
Perform general searches using relevant keywords to your niche. For example, if your focus is on eco-friendly products, you might search for "best eco-friendly home products" or "sustainable living tips."
Look for articles, blog posts, or forums where your link could add additional information or value.
Site-Specific Search with Google:
Use the site: search operator to find opportunities within a specific website. For example, site:example.com eco-friendly.
This method is particularly useful for targeting high-authority sites in your niche where a link would be most valuable.
Competitor Analysis Tools:
Use tools like Ahrefs, SEMrush, or Moz to analyze where your competitors are getting their backlinks.
Look for patterns in their backlink profiles to identify websites that are likely to provide reference insert opportunities.
Content Explorer in Ahrefs:
Use Ahrefs' Content Explorer to discover popular content within your niche. This tool allows you to find pages that have a high number of backlinks and social shares.
The trick is to spot articles where your content can bring some value. Maybe you've got updated info, a fresh perspective, or some extra details that could spice things up. You should find the right match!
When you're on the lookout for chances to slip in some link insertions, make sure relevance and quality are your main priorities. The idea here is to contribute something valuable to the content of the hosting site while giving your own SEO and audience reach a little boost.
How to Apply Link Insertion Effectively?
A great link insertion ticks off a few important boxes. For this strategy, a few things are key:
Natural Integration. The link needs to blend smoothly into the content, feeling like it belongs there. No awkward fits or out-of-place vibes.
Appropriate Anchor Text. The clickable text (anchor text) should be clear and descriptive, giving a solid idea of what's on the other end of the link. Avoid generic stuff like "click here" and go for text that makes sense in the context.
Relevance and Context. The link has to make sense in the context of the content. It should add value or provide extra info that ties into what's being discussed.
High Page Rank Pages. Getting links from pages that already have some quality links from other sites is a smart move.
Check out these link insertion strategies:
Promoting Blog Pages. If you spot a page on another site that's perfect for link insertion, create a blog post on your own site that fits. Then, it's easy for the other site to reference your post.
Link Insertion for Linkbait Content. Let's say you're writing an article on "coffee statistics." Use this strategy initially to gather some backlinks. As the article climbs in rankings for keywords like "how many people drink coffee in the world," it'll naturally attract more references to your site.
Real-Life Example. We used lthis strategy to snag the initial links for the statistics page on coffe-rank.com. Now, that page is pulling in links all on its own.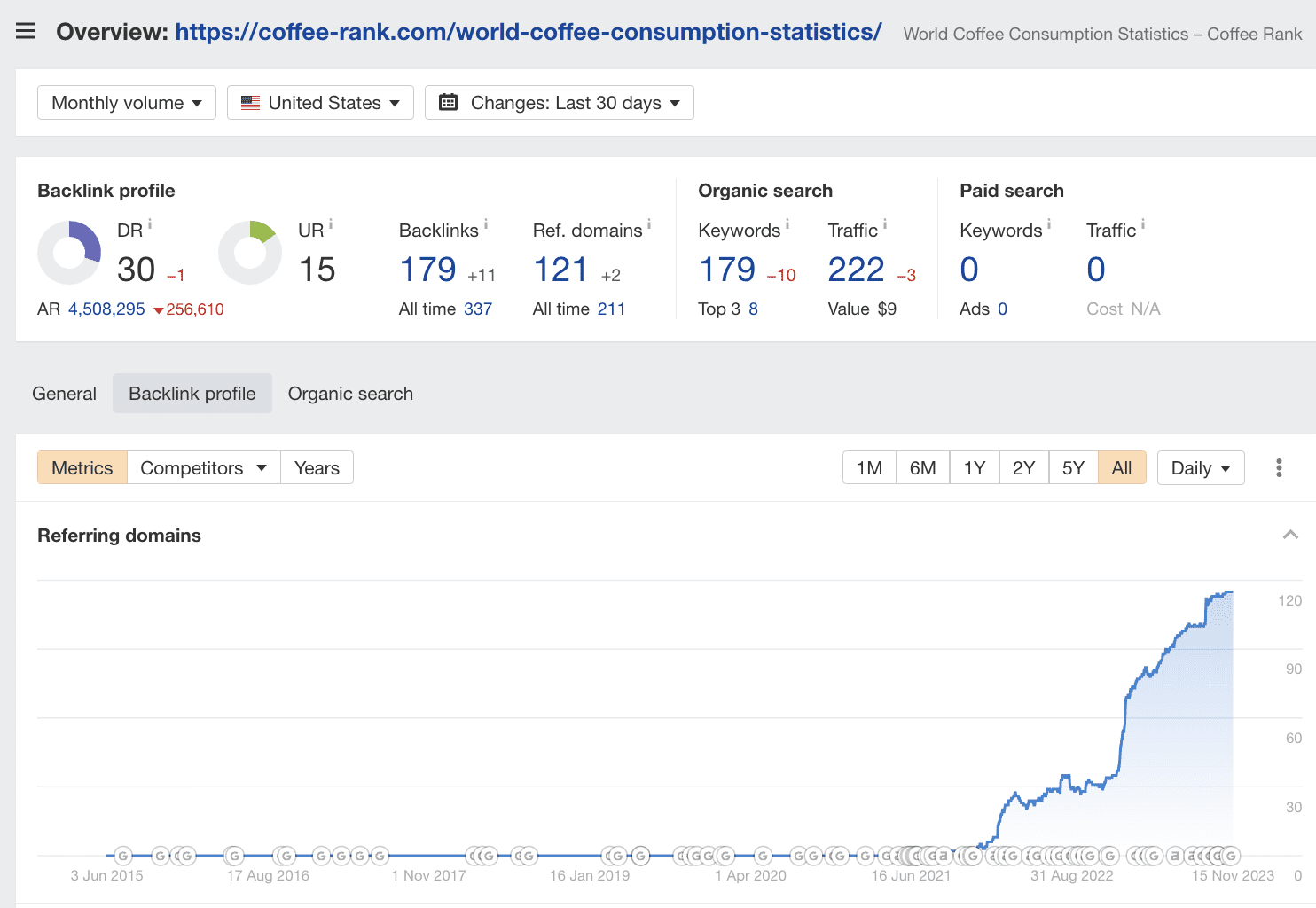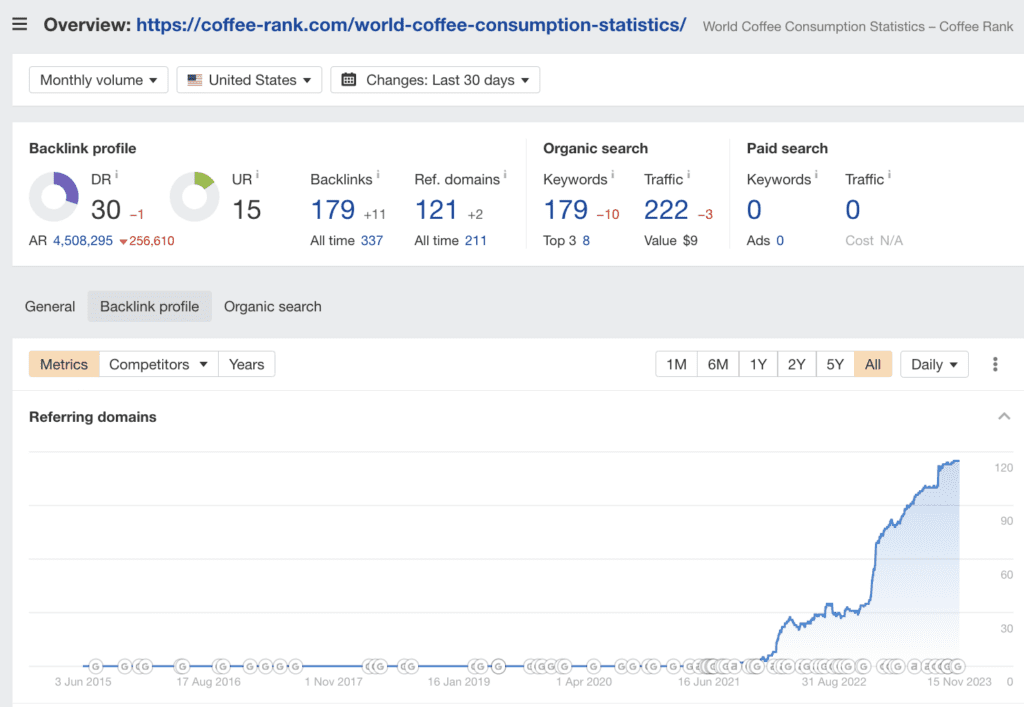 Why Is It Important to Acquire Links from Pages that Have Inbound Backlinks?
PageRank works as an algorithm that ranks web pages. It takes into account both the quantity and quality of links pointing to a page. In simple terms, the more reputable and relevant links you have pointing to your page, the higher it's likely to rank.
Indeed, Google still incorporates PageRank into its algorithm to evaluate and rank web pages. But the specific details and the significance of PageRank have evolved and grown more intricate. Anyway, it remains a foundational factor in Google's assessment of a page's significance and relevance on the web.
According to statements from Google representatives like Gary Illyes , Google continues use on PageRank and underscores the role of links in assessing E-A-T (now E-E-A-T).
Inserting links from pages with backlinks offers several key benefits:
Authority Transfer. Pages with a substantial number of backlinks are often seen as authoritative by Google. When you insert links on these pages, it can transfer some of this authority to your website.
Improved Visibility. Pages with a significant number of backlinks have higher traffic and visibility. Getting a link from such a page enhances the chances of directing traffic to your site.
How to Get Link Insertion?
To snag some link inserts, here are a few savvy strategies in your toolkit:
Broken Link Building
Scope out relevant websites in your niche and spot broken links using tools like Ahrefs or SEMrush.
Craft content that could fill in for the broken link.
Drop a line to the website owner, let them know about the broken link, and offer up your content as a solid replacement.
Skyscraper Technique
Hunt down popular, link-packed content in your niche.
Cook up a superior version of this content.
Reach out to websites linking to the original content and pitch your upgraded version as a more valuable resource.
Relationship-Based Link Building
Build connections with influencers, bloggers, and website owners in your niche.
Get in the mix by commenting on their content, engaging on social media, or reaching out directly.
Once you've built a rapport, suggest content collaborations or offer up your content as a valuable resource for their audience.
Each strategy focuses on adding value to the linking site and its audience, ensuring a mutually beneficial exchange.
To acquire link insertion, here's how to use Ahrefs and their Content Explorer tool: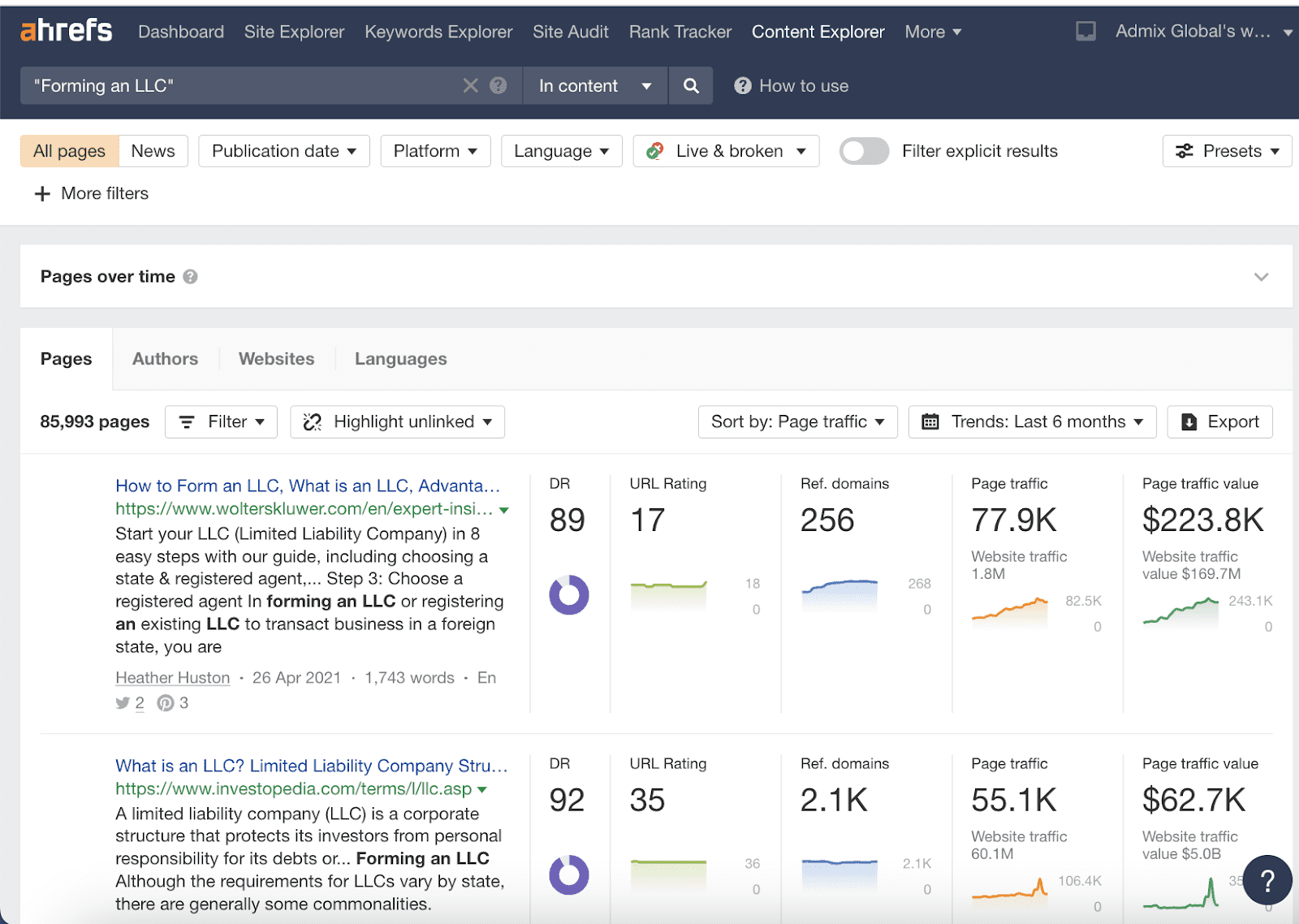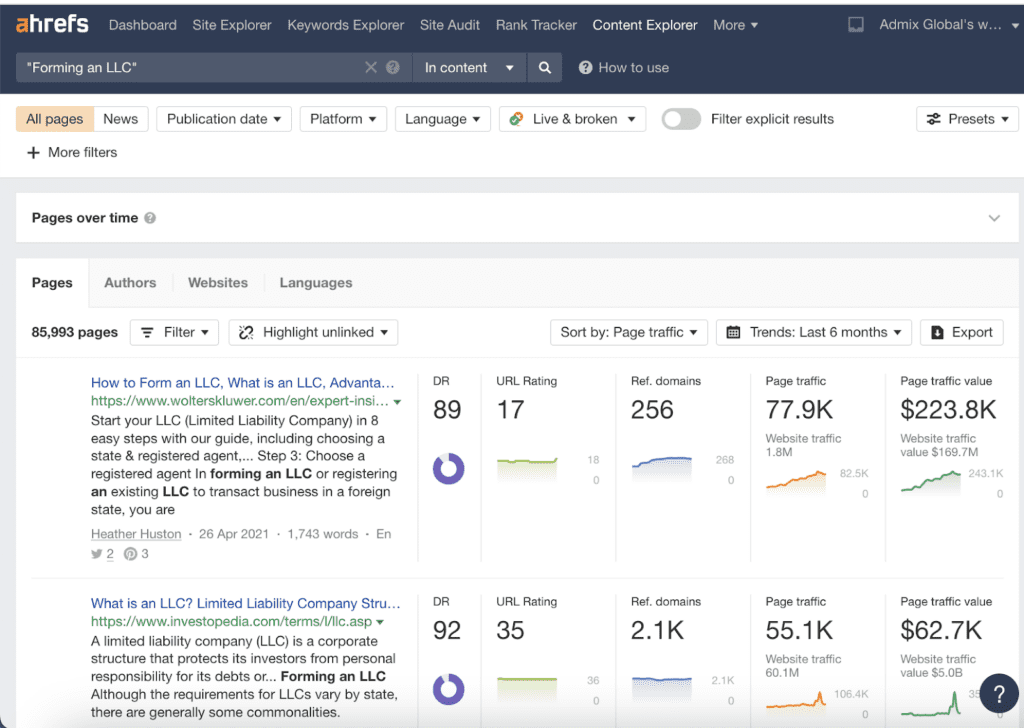 Enter your desired keyword in the search field and select "In Content" to get a list of potential pages for Link Insert.
Pages can be sorted by domain rating, the number of referring domains to the page, and traffic.
Did you know?

Our team at Editorial Link has established relationships with many popular websites. Editorial Link can assist with strategic Link Placement from top sites and globally renowned SaaS services. We work with SEO agencies and brands. You can submit a request to us, and we will gladly help you find suitable sites for free.
Is Using Link Insertion Safe?
Some SEO experts express concerns that obtaining references by inserting them into existing content could be seen as unnatural by Google. But the reality is that it's a widely practiced strategy in content marketing.
Here's Why:
Regularly updating content with new information and links is a staple in content marketing—it keeps content relevant and valuable over time.
Take Wikipedia, for instance. They're known for regularly updating articles with fresh links to maintain accuracy and currency.
Google actually likes updated content. When updates bring in relevant new links that add value to the content, it can boost SEO. But the updates should contribute positively and benefit the reader.
Overall, regularly updating content with fitting external links is a recognized practice in content marketing.
I even conducted an experiment, the results of which I published on my LinkedIn, demonstrating that external dofollow links do not have a negative impact.
We tested this on a 200-page website by adding 277 outbound dofollow links to various sites, updating existing content with unique segments of at least 50 words.


Guess what? Despite the worries that adding external dofollow links could mess things up, this site didn't just hold onto its rankings—it actually doubled its organic traffic. So, it looks like those links are more like SEO sidekicks than troublemakers.
How Much Link Insert Cost
From what I've gathered, the price tag for a link insertion can swing anywhere from $100 to $1,500-plus per link. This cost tends to depend on the industry and the reference's quality.

But keep an eye out for those super low-cost link insertion deals. Some services are offering link inserts for as little as 29-58 euros.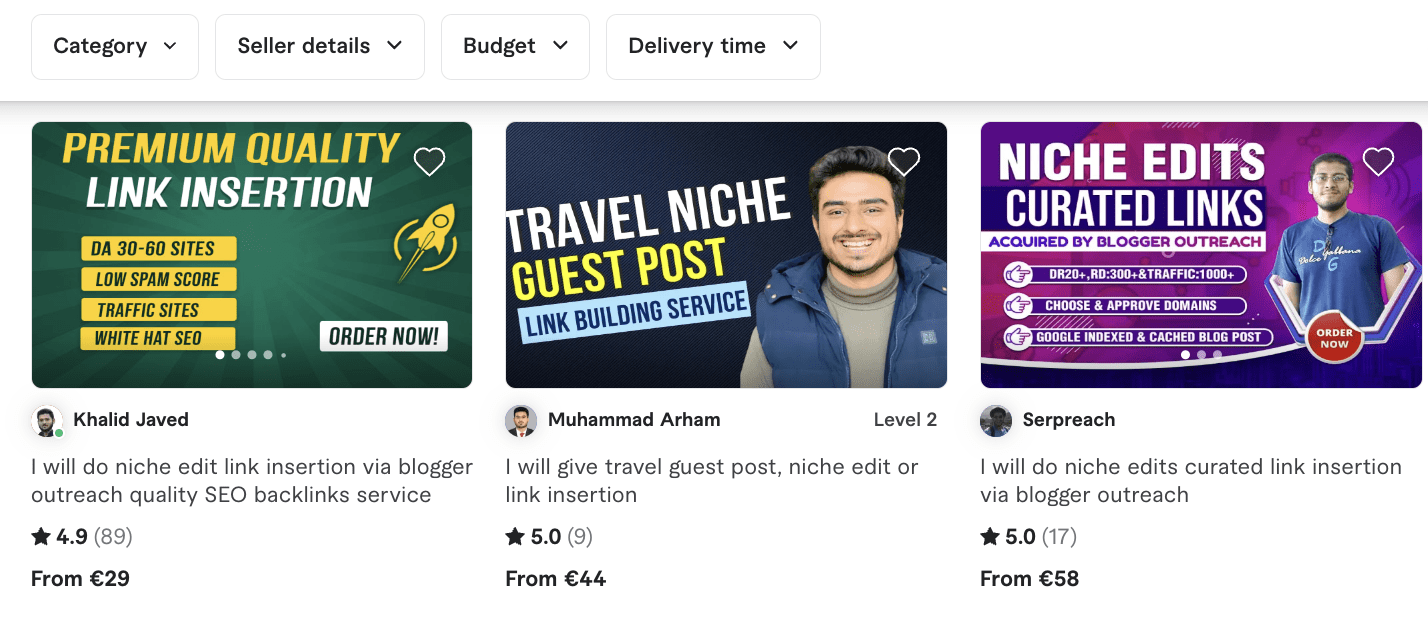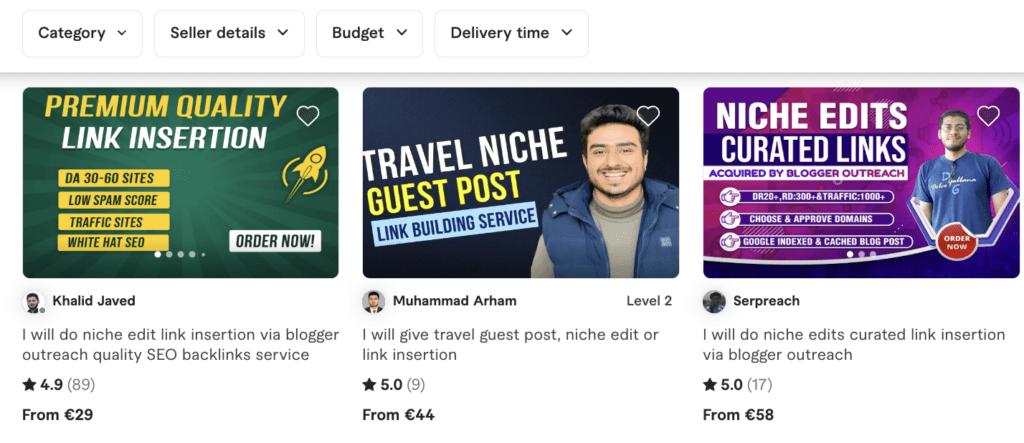 Those bargain-priced references? They often end up in places like "link farms" or on low-grade websites. So, quality and relevance beat out hunting for the cheapest deal any day.
The dream link insertion? It's on a page that's spot-on relevant, pulls in traffic, and boasts some quality inbound backlinks. That's the sweet spot.
Final Words
Getting a really cool link insertion is not the most straightforward task. But the time and effort that you or your contractor will invest in it will more than pay for itself in the traffic that will flow to your pages. Consider this strategy in detail to get all its gains.