Nowadays, buying backlinks has become a popular method to swiftly elevate search engine rankings on Google. However, this practice raises conflicting advice from Google itself.
In this article, we'll explore the right approach to buying backlinks in 2024, considering the guidelines while avoiding potential pitfalls.
What is Link Buying?
Curious about link buying? Well, it works like this: when you buy links, you're essentially paying another website to give your website a shout-out by putting a link to it on their pages. The main reason people do this is to supercharge their website's visibility in search results.
Now, link buying can take different forms:
Paid Directory Listings. Imagine paying to be listed in an online directory just so they can link back to your website;
Paid Guest Posts. Ever heard of paying for articles that have links to your website? Yep, that's a thing;
Paid Link Placements. You know those links sprinkled in content on other websites? Sometimes you pay for those too;
Private Blog Networks.Think of it as getting links from a bunch of private blogs owned by a group.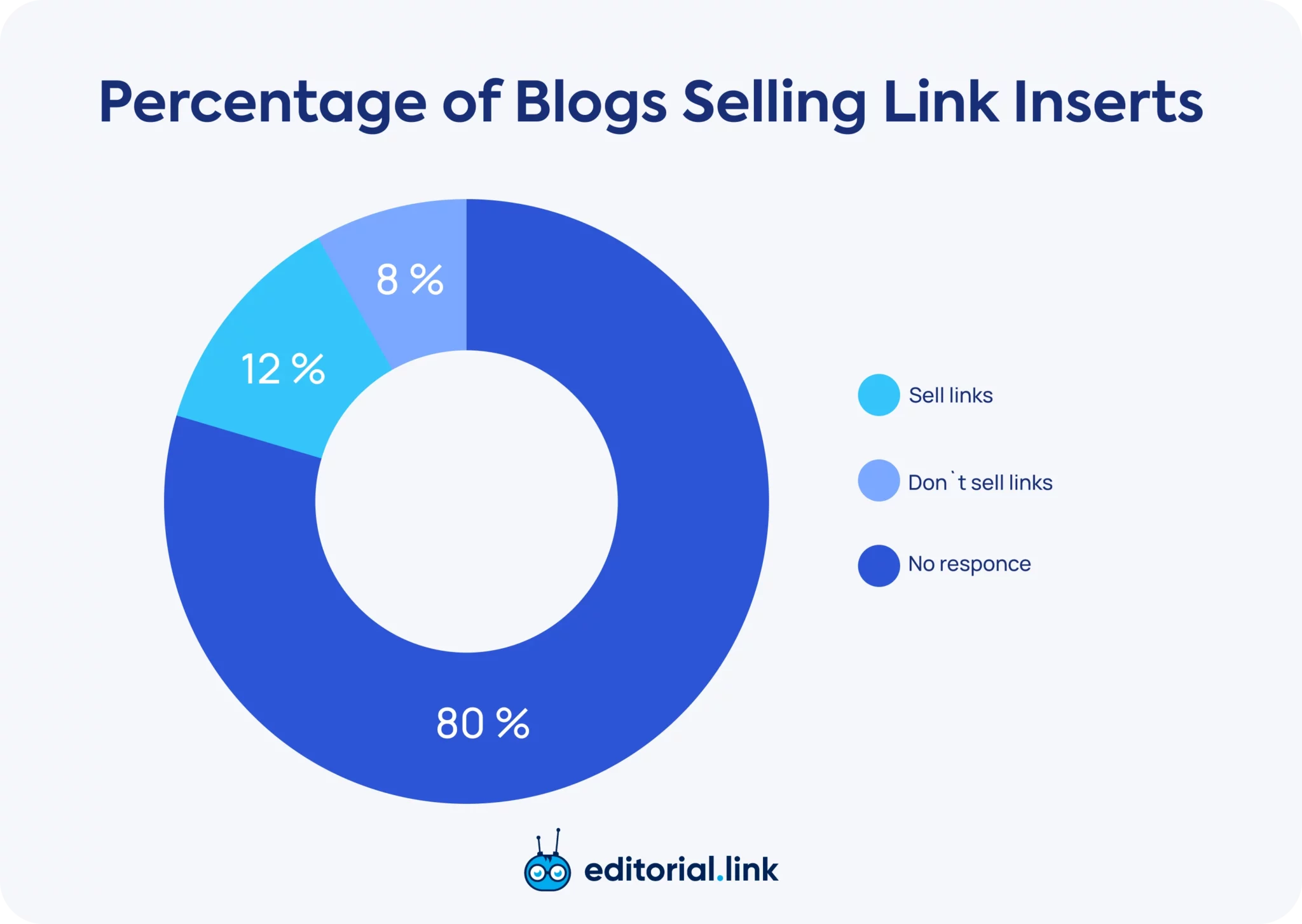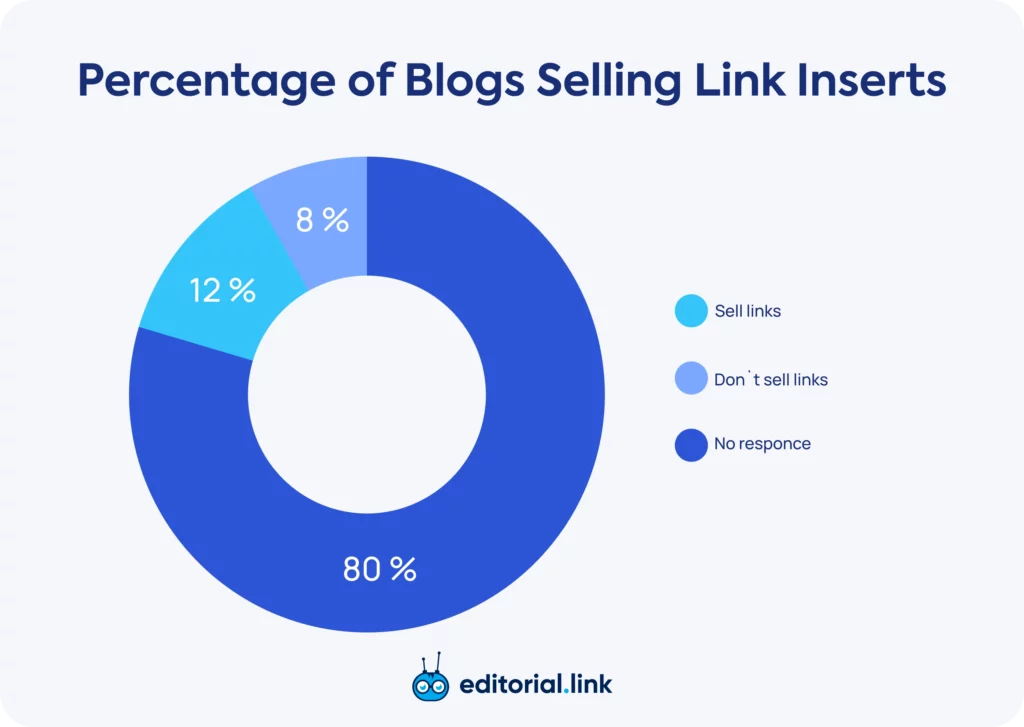 Here's the thing: link buying can land in a gray area. It's sort of like those SEO tactics that might raise an eyebrow. Why? Because Google's guideline frown upon this link buying business. They see it as a sneaky way to mess with their ranking system. So, before diving into link buying, remember that it's not all sunshine and rainbows.
Why Professionals and Leaders in Your Niche Buy Backlinks
Many may wonder, "Is this really necessary? Do top sites and leaders actually buy backlinks?" Well, let's take a closer look. Backlinks are purchased by top players in various niches, especially in competitive fields like IT, Web Design, Finance, and Real Estate.
The higher the competition, the greater the likelihood of paid links. Screenshots show the link statistics of top-ranking sites for different queries and niches, all highly competitive.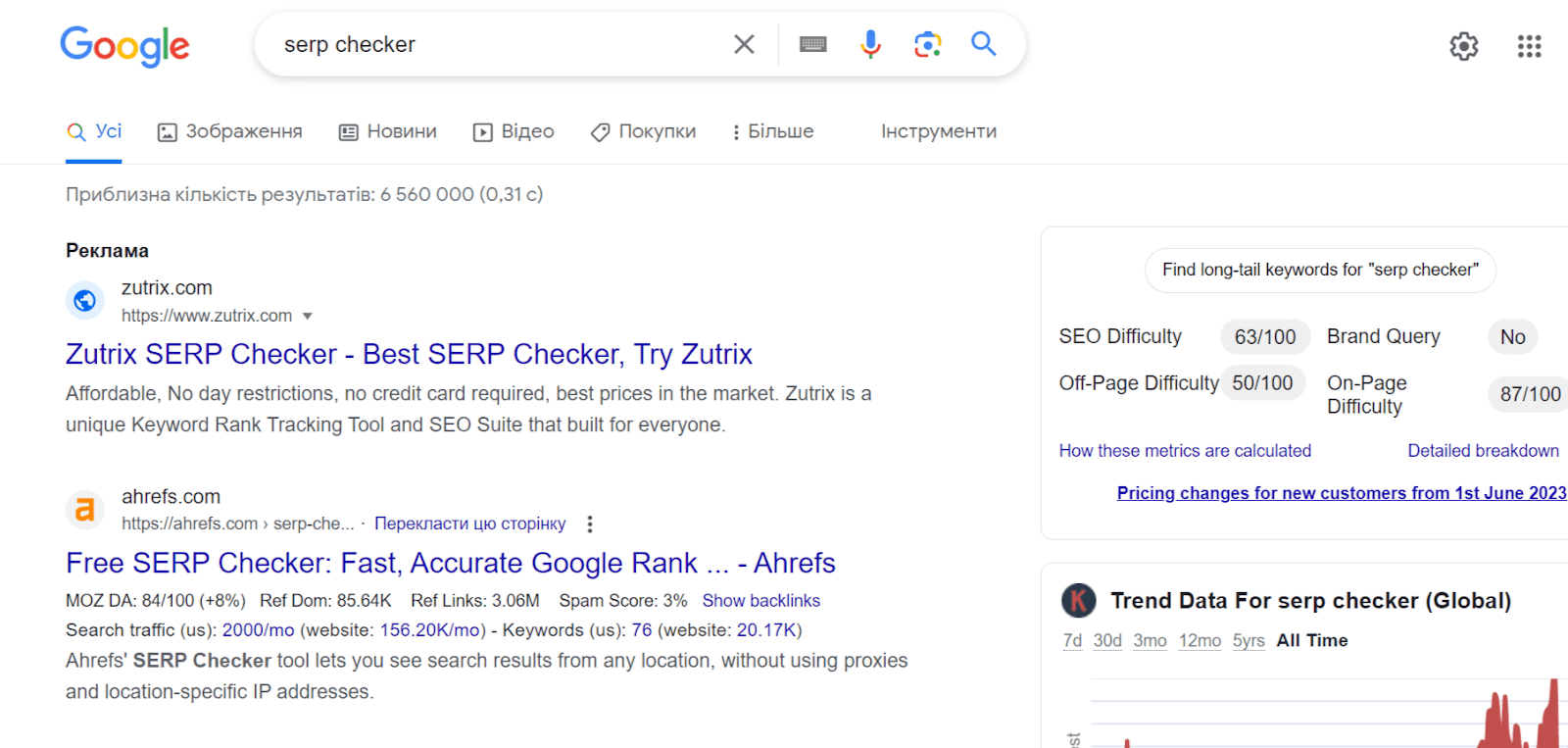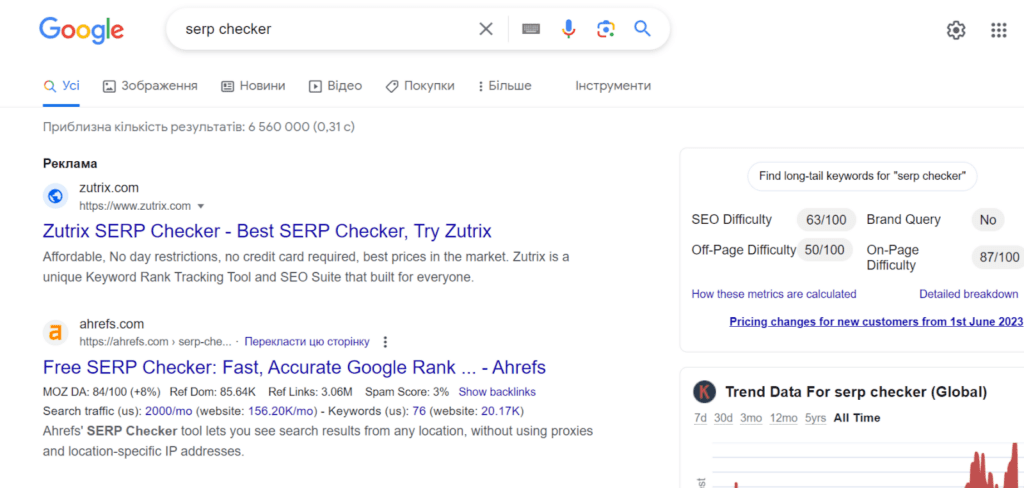 Links are one of the top 10 ranking factors in Google. Without them, achieving top positions for high-frequency queries with strong competition and targeted traffic becomes challenging. SearchEngineJournal lists backlinks as one of the seven major ranking factors for websites. Now, you might think, "Sure, links are essential, but why not focus on content and hope for natural link growth?";
Speed matters! The skyscraper technique by Brian Dean yields impressive results, but relying solely on it isn't enough. You need additional link-building methods to acquire links while preparing linkbait content;
The third reason is predictability. By purchasing backlinks, you gain better control over their growth and the quality of links you receive, impacting your promotion results.
Purchasing links for websites is not just a possibility but often a necessity. However, how should you go about it? We'll delve into potential pitfalls when buying backlinks. Don't worry; you can mitigate risks and maximize your gains from backlink purchases.
Understanding the Risks of Buying Backlinks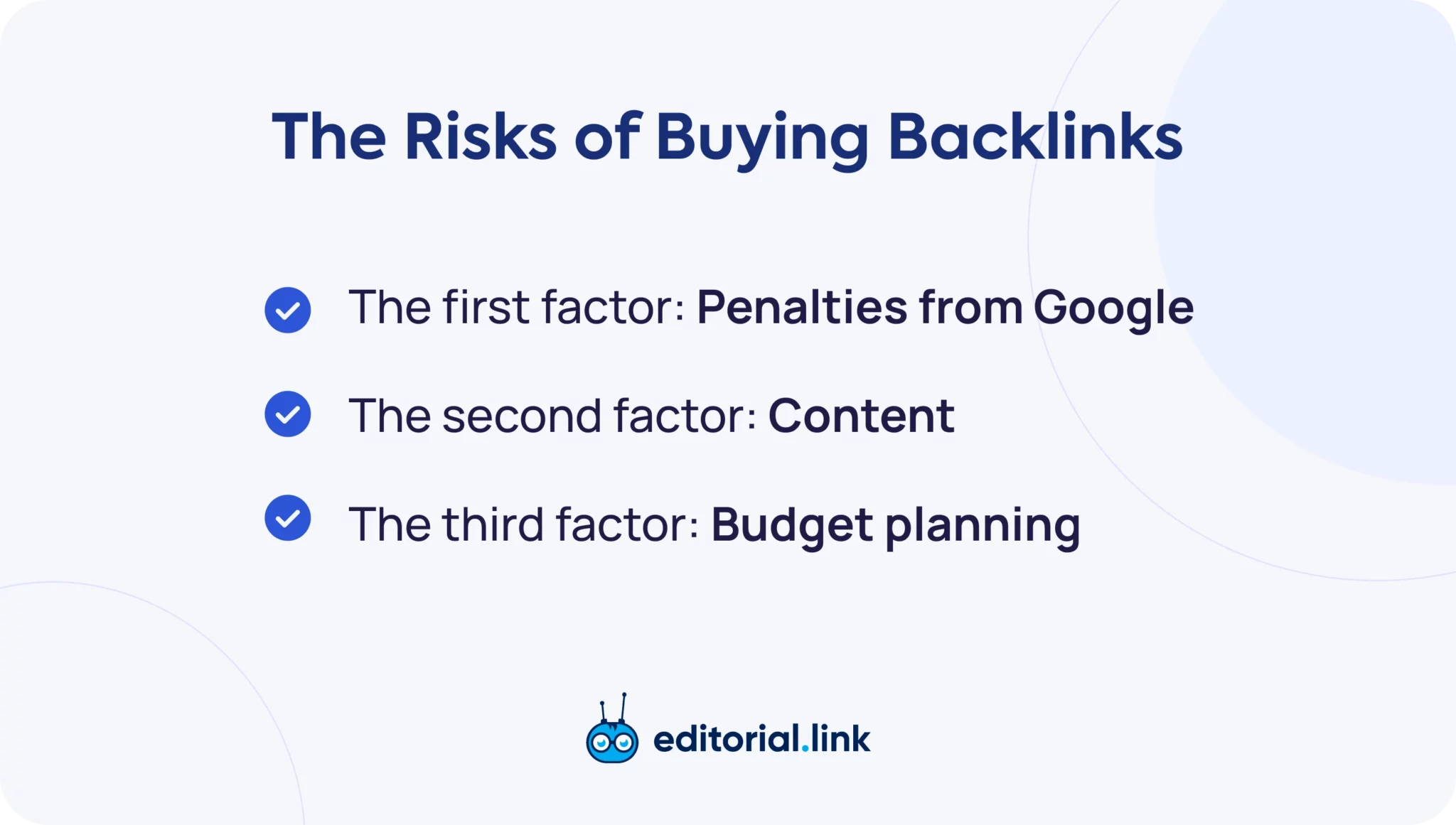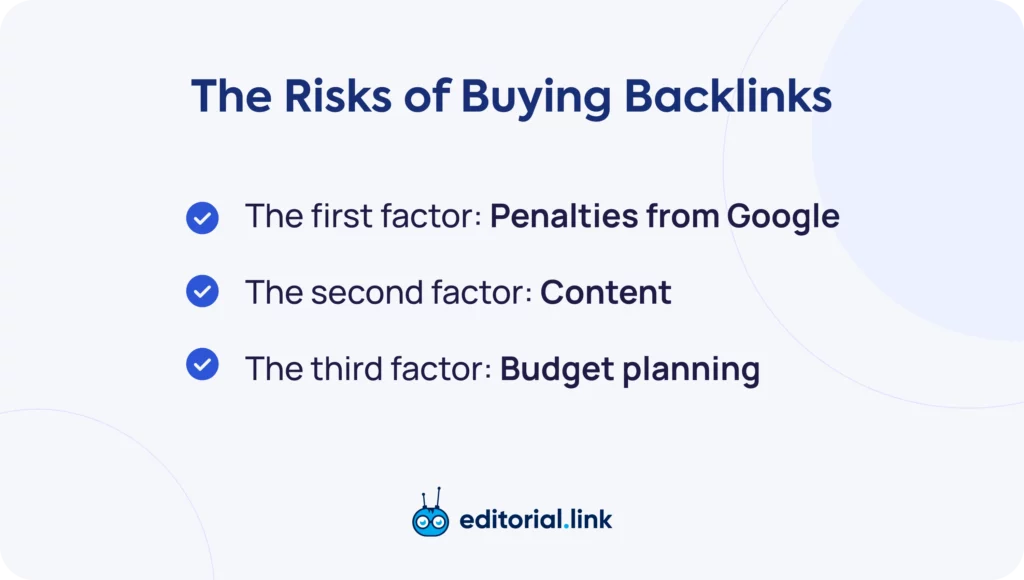 The first factor to consider is the risks of buying backlinks, particularly the potential penalties imposed by Google. Let's analyze the situations and reasons behind these risks.
Anomalously rapid link acquisition poses significant risks, especially for young websites, as Google will detect sudden influxes of hundreds or thousands of links within days, potentially triggering filters;
Low-quality and non-relevant links. Be cautious of offers promising a massive number of links at unbelievably low prices, particularly through platforms like LinkedIn. Such offers often lead to spammy links from low-quality websites, yielding short-term benefits that may vanish as Google penalizes them;
There's no one-size-fits-all answer to how many links are safe to acquire monthly. Analyzing your competitors' link-building strategies will help determine an optimal acquisition pace. Focus on obtaining links at a similar or slightly faster rate than your competitors;
Links from Private Blog Networks (PBNs) and other similar tactics create significant risks for site promotion. These methods often lead to penalties;
Acquiring numerous links from unrelated websites is ill-advised. While a few non-thematic links won't get you penalized, a combination of non-relevant links and other issues from this list will result in Google sanctions;
To prevent issues with Google, it's essential to diversify your anchor list and avoid constantly using one or two anchors with obvious transactional intent.
To steer clear of Google penalties, your link-building strategy must include:
The rate at which you plan to acquire backlinks;
The anchor texts you intend to use;
Criteria for selecting donor sites.
Conducting competitor analysis will provide all this information. To buy backlinks effectively, analyze the key link profile metrics of your competitors and aim to outperform them. If leaders gain 50 backlinks per month, target 55. If competitors get links from sites with DR 20 or higher, aim for a higher DR.
Pro Tip: Precise data is valuable to all, including the number of links required to rank in the top 10 for competitive traffic queries. Ahrefs' Keyword Explorer provides this information effortlessly.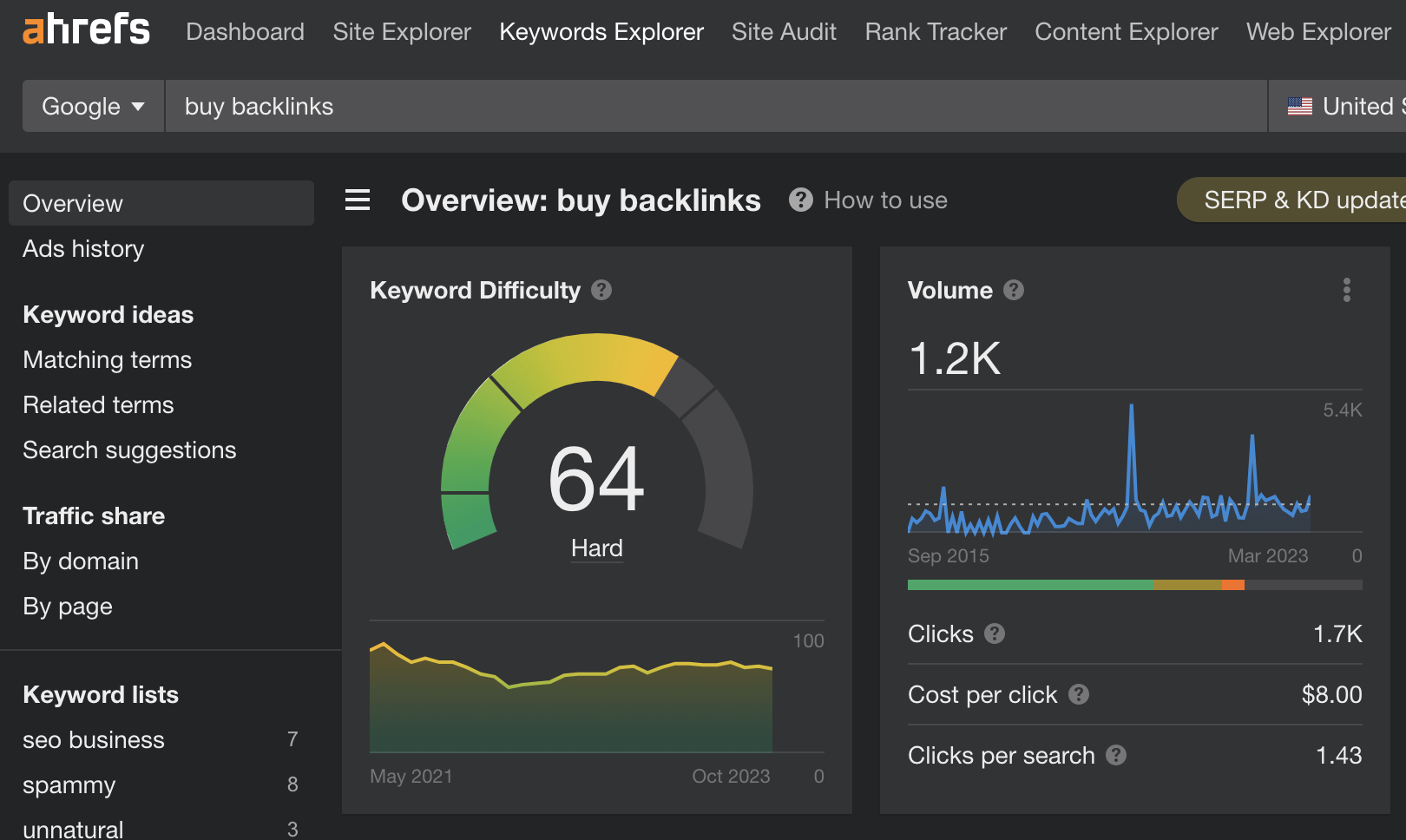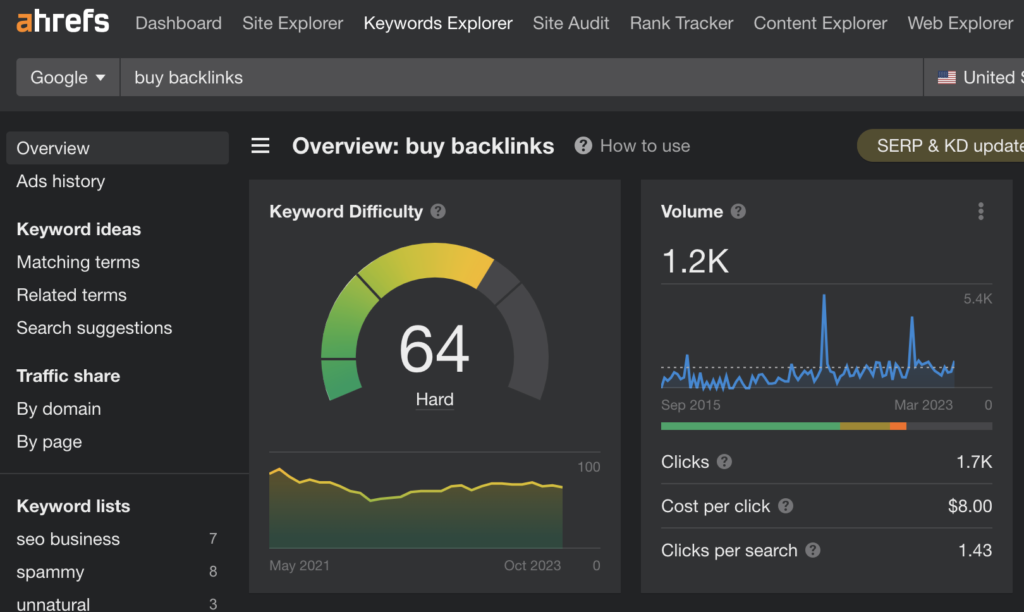 Simply enter your desired query and check the difficulty score slightly below. While Ahrefs' estimation is approximate, it serves as an excellent reference for link-building planning and budgeting. Developing your link acquisition strategy? This feature will prove beneficial.
The second factor is content. Regardless of whether you purchase links or opt for free methods, you need top-notch texts, infographics, and videos. Quality content is crucial for several reasons:
Organic Links: Google values high-quality content, making the links more likely to be perceived as organic. Quality articles might even attract additional links, fortifying your site's link profile with tier 2 backlinks;
Engagement: High-quality content receives more traffic, leading to increased organic and referral traffic for your site;
Authority: Visitors are more likely to follow your link if it appears in a useful and informative article.
Having top-notch content writers is essential even in the age of Chat GPT and Jasper. Their work will help you maximize the potential of purchased backlinks.
The third factor is budget planning. Website owners desire predictable results with predictable costs, applicable to all link acquisition methods. To forecast the number of links you need and their costs, you'll require experience, accurate competitor assessment, and a clear understanding of the link types you plan to acquire. Knowledge and constant monitoring of market prices play a vital role, leading to outsourcing or delegating link-building tasks to specialized professionals.
Where to Buy Links? The Main Options, Pros, and Cons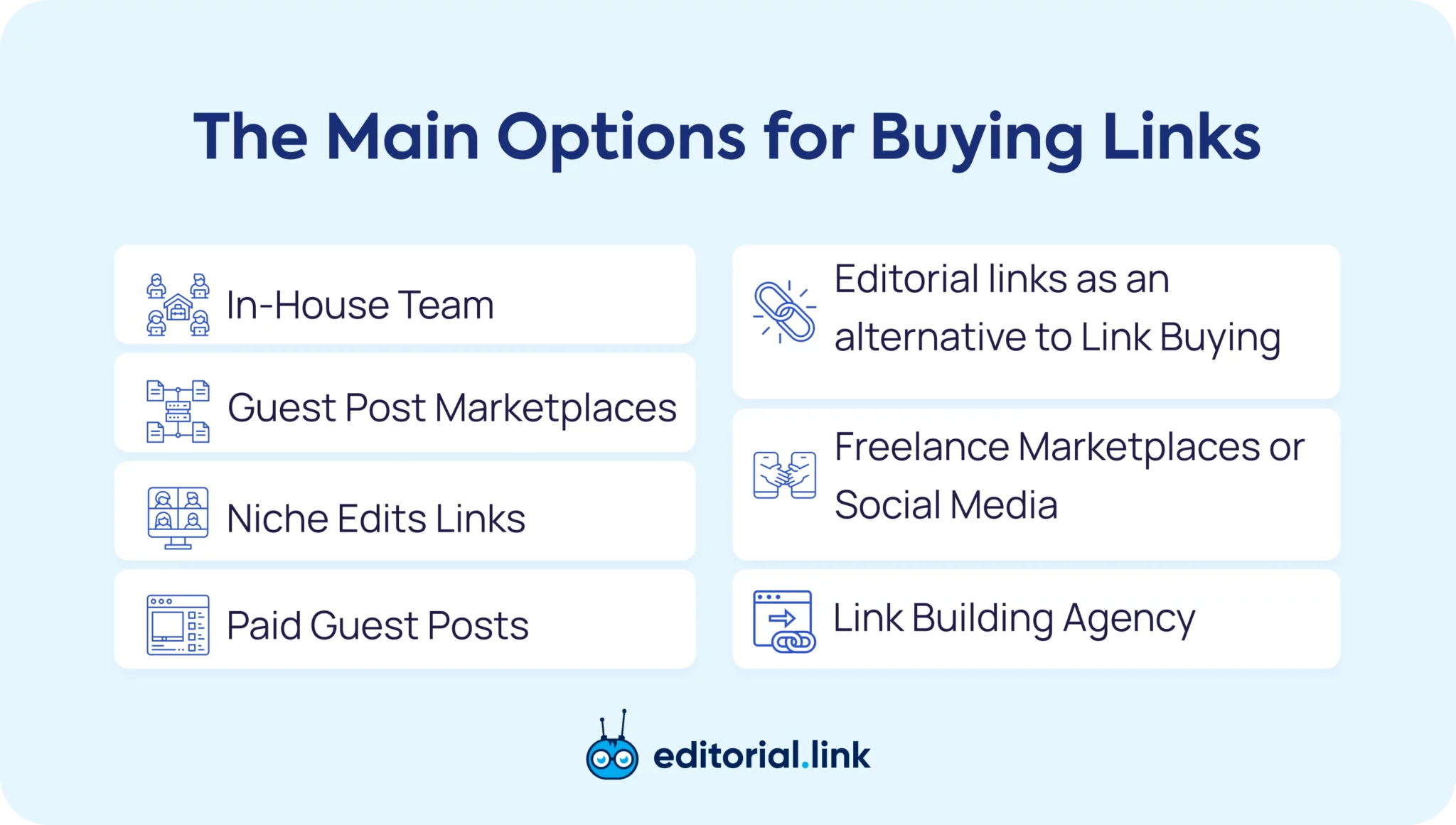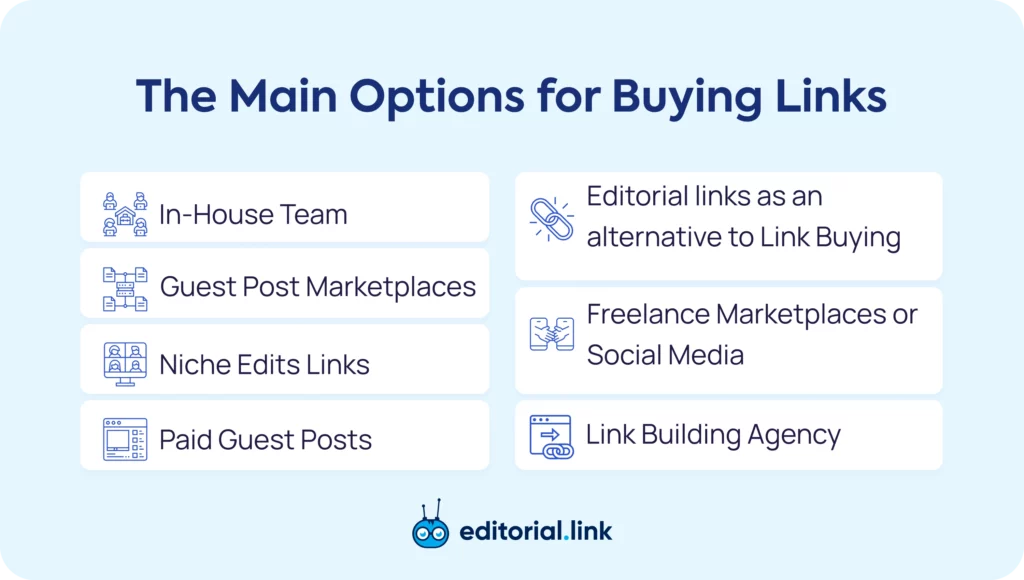 We've explored the significance of consistent link growth and potential complexities. Now, let's discuss where to buy backlinks. Numerous options are available, each with its pros and cons.
Here's an overview of the mechanics and some insights for each link purchasing approach to help you decide which one best suits your needs.
In-House SEO Team with a Dedicated Link Builder
Advantages:
Full control over the process;
Specialists focused solely on your site.
Disadvantages:
Challenging to assemble and build such a team;
In-house work can be expensive and often economically unjustifiable;
Requires a significant amount of time to establish and optimize the team's operations.
While you can trust your in-house SEO team to handle link building, including a link builder and an SEO specialist, building such a team and organizing its workflow can be time-consuming and costly. In most cases, in-house link building is economically feasible only for large companies.
Buying Backlinks from Freelance Marketplaces or Social Media
Advantages:
Disadvantages:
Often low-quality links;
Questionable effectiveness;
Communication with site owners and link builders might not be convenient and fast.
Thousands of freelancers on platforms like Fiverr, Facebook, and LinkedIn offer links for your site at very low prices, promising hundreds or even thousands of links per order. While this might seem appealing, these services come with more risks and drawbacks than benefits. Such links might yield short-term results but are prone to getting deindexed or triggering Google filters. Transparency is often lacking, and you won't know how sites are selected and more.
Can we make it visual? I decided to explore one of the well-known freelancing websites to see what kind of services they had in store. A few links for pennies – it's too good to be true.
At first glance, this might sound like an incredible bargain, especially if you're on a tight budget or looking to save some cash. However, as the saying goes, "if it sounds too good to be true, it probably is."
In reality, deals like this often raise some red flags. While they may promise numerous backlinks at a minimal cost, there are typically underlying issues that can impact the quality and effectiveness of those links.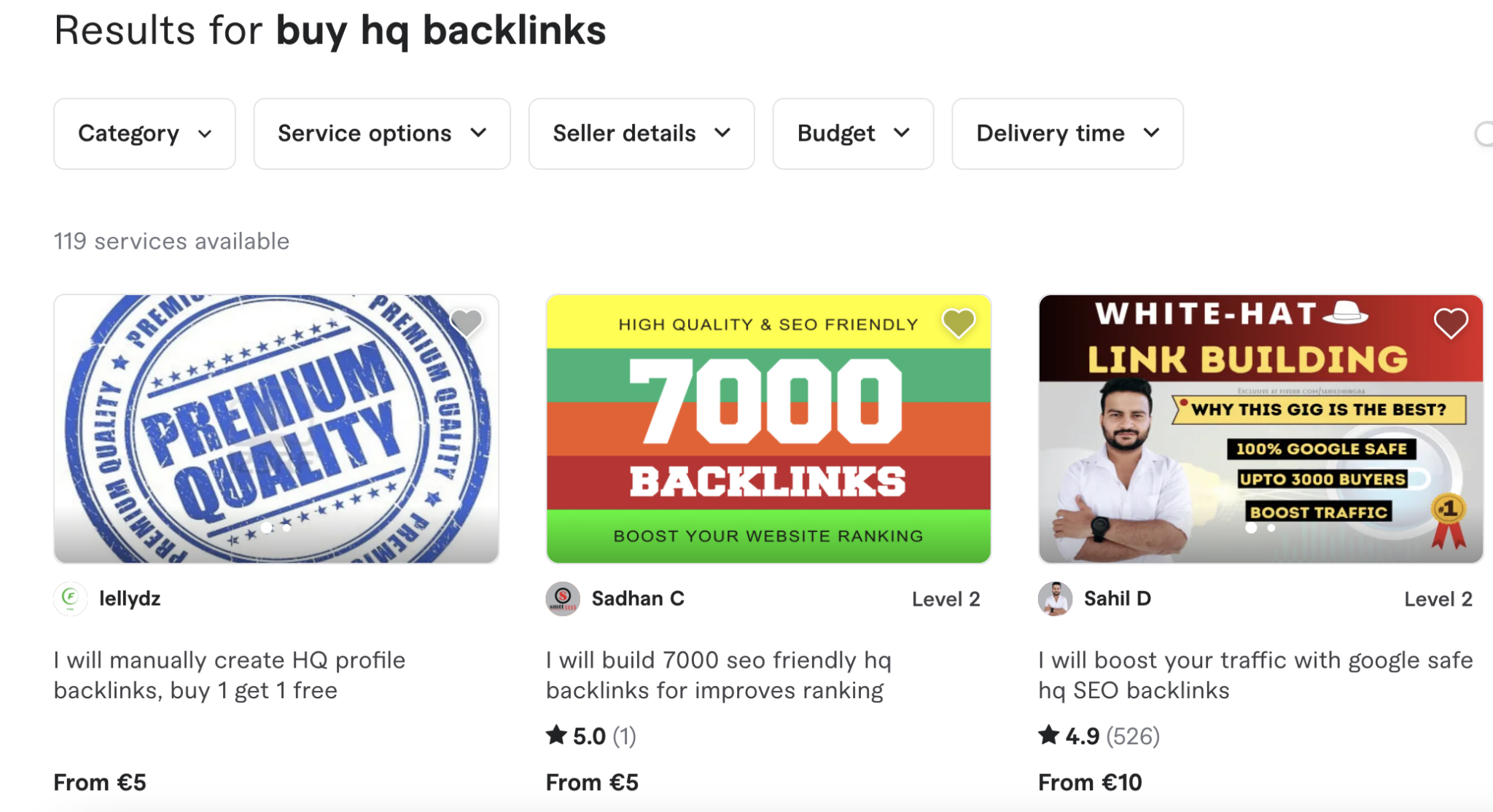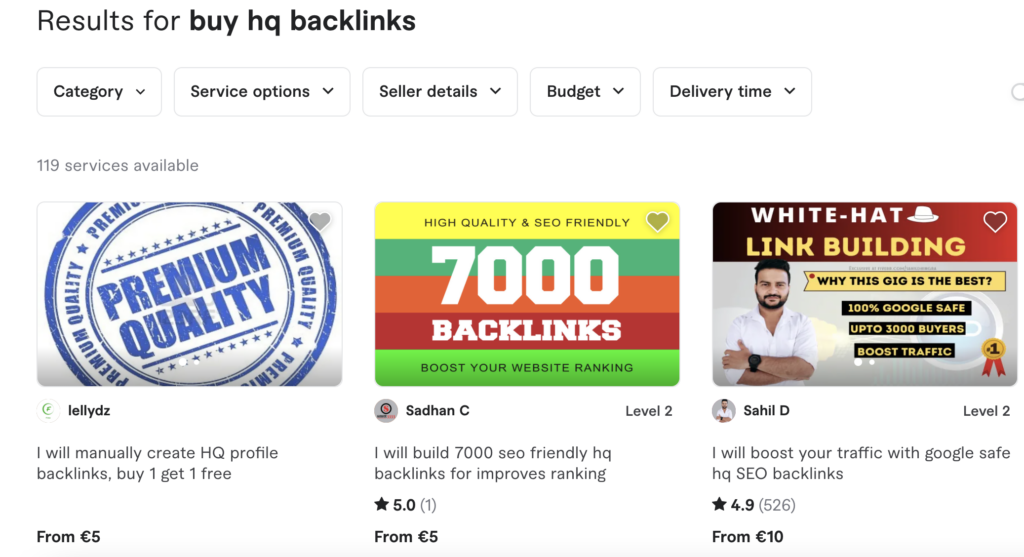 Frequently, these freelancers utilize their private blog networks (PBNs) to sell links, a gray hat SEO technique that Google might penalize as manipulative. Utilizing such link acquisition methods should be approached cautiously and not be your primary link-building strategy.
So, as tempting as these offers might appear at first glance, it's important to remember that quality, relevance, and ethical practices often matter more in the long run than simply amassing a large quantity of cheap links. So, the old adage of "you get what you pay for" holds true.
Niche Edits (Links from Existing Pages on Relevant Sites)
Advantages:
Fast link generation;
Easy anchor text management;
You choose the pages to receive links from and the sites to target.
Disadvantages:
You might choose sites with poor metrics, which can harm your SEO.
This link acquisition method involves placing links on existing pages of other sites. The content might be slightly modified to make the link appear organic and logical. However, the challenge lies in avoiding sites that sell too many backlinks, as this can negatively impact the sites buying links from them.
Analyzing sites for excessive outbound links compared to inbound ones and checking site traffic and content quality is crucial. This strategy can work, but careful site selection is necessary.
Paid Guest Posts
Advantages:
You control anchor text and the pages to link to;
You can choose the sites for link placement;
This tactic can improve brand recognition beyond search rankings;
Powerful long-term effects from such links.
Disadvantages:
Finding good sites for paid guest posts can be difficult;
Producing high-quality content regularly for guest posts is necessary.
This method resembles the previous one, except that the links are placed on new pages of other sites, and you provide the articles instead of the site owners. The main challenge here is producing enough high-quality content and selecting sites that will bring the most traffic.
Editorial Links - An Alternative to Purchased Links
Advantages:
Links not present in your competitors' profiles;
Sites with excellent SEO metrics provide links;
Long-term effects from these links;
Maximum ROI on investments.
Disadvantages:
You still need other types of links for a natural link profile;
Difficult for young websites to acquire such links.
Editorial links, which we offer, differ from niche edits in several important ways:
They come from sites owned by real businesses that don't sell links, ensuring maximum link impact.
These links not only improve SEO metrics but also elevate business authority and brand recognition.
Acquiring editorial links involves building lasting relationships with site owners, making them a safer alternative to purchased links, and complying with Google's guidelines.
Buying Backlinks via Guest Post Marketplaces
Advantages:
Sites on these platforms undergo selection based on marketplace criteria, guaranteeing a minimal level of safety and link quality.
A wide variety of niches available, allowing links for any type of site.
Disadvantages:
Thorough site selection is still necessary.
Marketplaces might feature sites that sell a significant number of links, resulting in lower effectiveness than niche edits or editorial links.
This link-purchasing method is similar to the previous one, with the difference being that guest post sites are listed in a single marketplace. You can filter these sites by niche, pricing, etc. Such platforms include Linkhouse, Collaborator, PRposting, and Outreach Mantra, and provide access to a vast number of sites for link acquisition. However, you'll have to follow the platform rules, and adjusting content on pages with links might not always be possible.
Buying Backlinks from a Link Building Agency
This method differs from others as you pay for the work of people building links for you rather than buying the links directly. The main difference is that your site will receive only a portion of the specialists' time, which can be cost-effective and just as effective as an in-house team. An agency can purchase different types of links and devise a comprehensive link-building strategy. The results depend on the agency's methods and reputation, which can be assessed through case studies and real feedback.
By the way, you can check reviews about our work on Clutch.
Intermediate Conclusions: Different Sources of Bought Backlinks
Businesses can purchase links from various sources, including direct contacts with site owners, intermediary services, or building their in-house SEO team. Many companies opt to buy links through agencies because they provide a strategic approach and help monitor the process, which is crucial in link building to ensure alignment with set goals.
Regardless of the option chosen, it's essential to know how to select and evaluate the quality of purchased links.
How to Buy Backlinks? Choosing and Evaluating Links the Right Way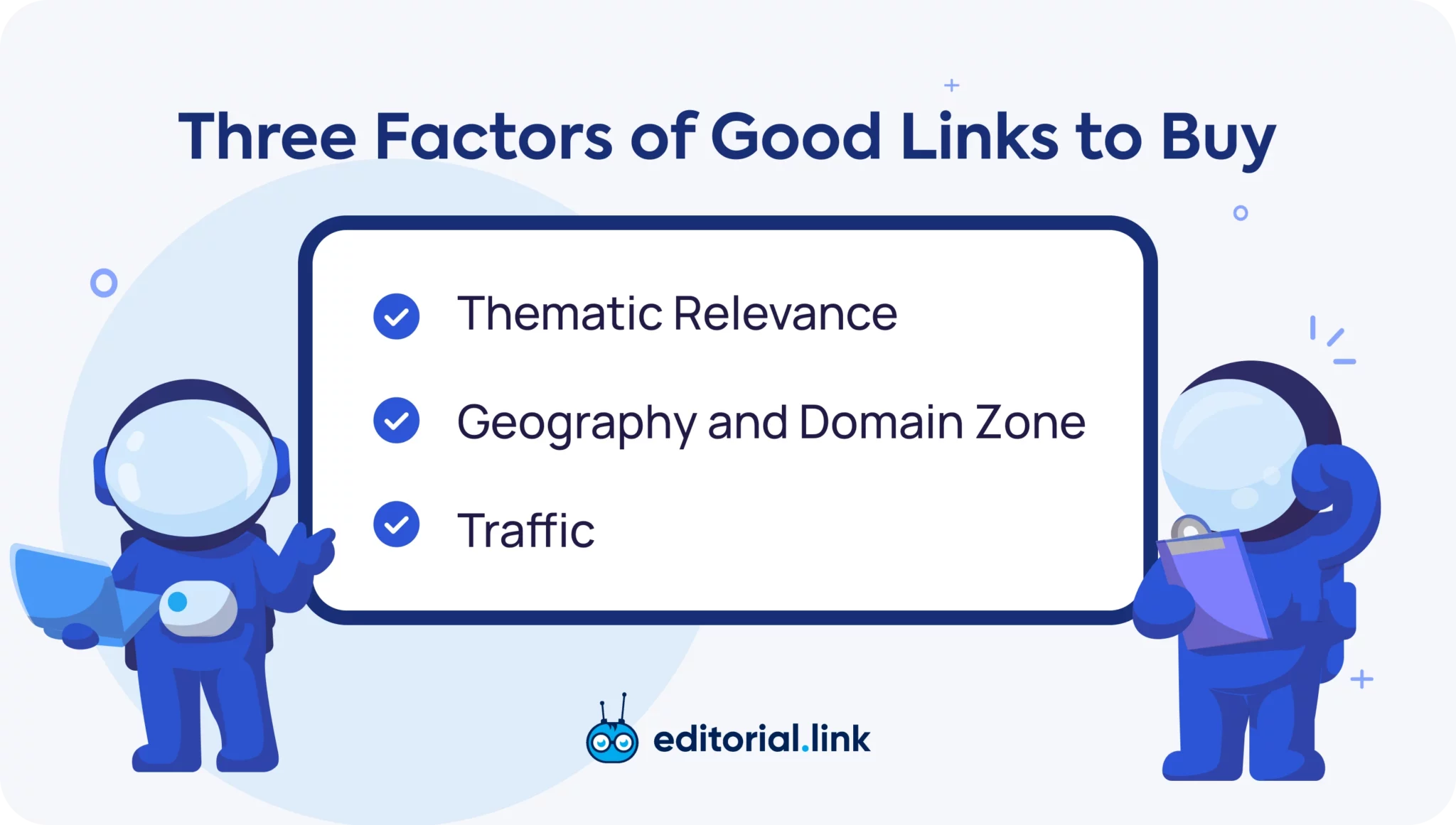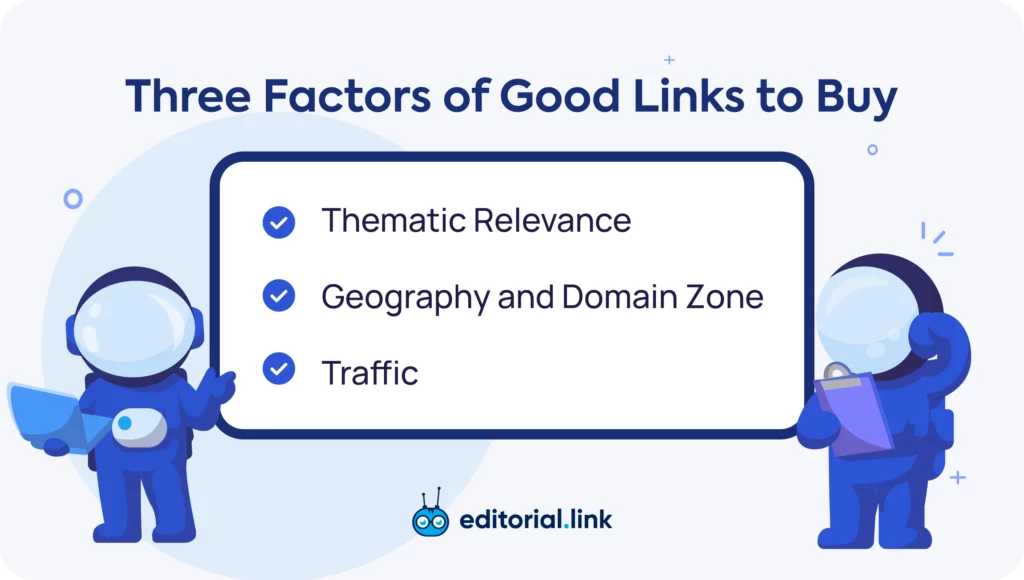 When you need thousands of links to achieve top rankings, analyzing each link in detail becomes impractical due to time constraints. However, if you're a site owner or marketer, it's vital to understand which links are suitable for your specific case. Let's dive deeper into this process.
Thematic Relevance
Thematic relevance is one of the essential signals that indicate the organic nature of links. When analyzing sites for link building, it's crucial to start with thematic relevance.
Imagine you're tasked with promoting a website for a software development company. In this scenario, it's not just about getting any links, but it's about getting the right kind of links. Ideally, most of your backlinks should originate from websites that operate within the same niche, which, in this case, is the software development industry. Why? Because links from relevant websites carry more weight in the eyes of search engines.


So, for your software development company, having links from technology-related blogs, forums, or even partner companies can significantly boost your website's credibility and SEO ranking. This is why link building within your niche is a strategic move. While a few links from unrelated sites won't harm, it's vital to ensure that the links are contextually related to your content.
Geography and Domain Zone
Opinions differ regarding the importance of this factor, but the experience of our company and other agencies shows that obtaining organic traffic from a specific region, such as the US, requires links from sites in that region. For instance:
Another essential consideration is that while purchasing links, you're not necessarily aiming for direct traffic from those links. It might not generate significant traffic, but you want it to be targeted. Hence, look primarily for thematic sites from your country when buying links.
Traffic
Evaluating a site's traffic is the best way to assess its link quality as a donor. Traffic is more challenging to manipulate compared to Domain Rating (DR). To analyze traffic, you can use link building tools like Ahrefs or Similarweb.
Pro Tip: While examining site traffic on Similarweb, pay attention to the direct traffic. If it's excessively high or the primary traffic source, it's best to avoid building links from such a site.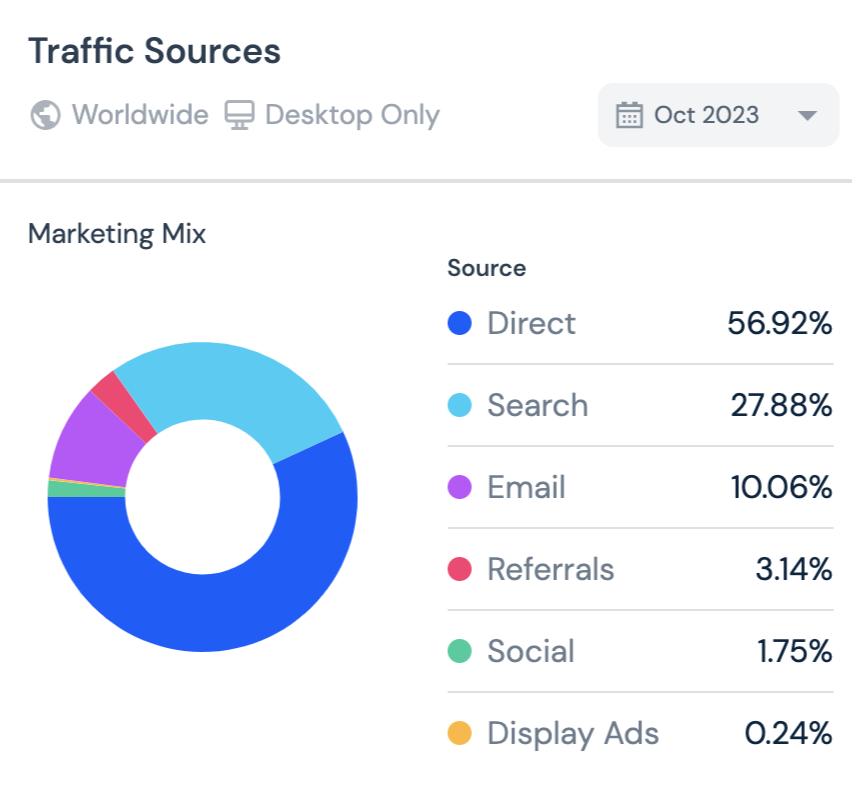 Direct traffic typically represents visitors who land on a site by directly typing its URL into their browser's address bar or using a bookmark. It can also include those who access the site from a saved link in their emails or docs.
A healthy website should receive traffic from various sources, like organic search, referral links, social media, and direct traffic. If a site is heavily reliant on direct traffic, it may indicate that a substantial portion of its audience already knows about the site, possibly due to extensive advertising or email campaigns. Sites that primarily rely on direct traffic might not perform well in organic search results. This could be due to a lack of optimization, which might result in your backlinks from such sites carrying less SEO value. Moreover, an unusually high level of direct traffic could suggest that the website is investing in paid advertising to drive traffic.
So, it's generally best to prioritize those that have a diverse traffic profile, with organic search traffic being a significant component.
Google recommends using link attributes for outbound links, which can impact the site you're promoting. Understanding whether links have a nofollow attribute is essential. While nofollow links are also valuable for SEO, they are usually less expensive. Nofollow links play a supporting role in making your link profile look more natural.
The optimal ratio of dofollow to nofollow links varies for each case and there are different opinions within the SEO community.
Google doesn't have official statements about specific ratios, so the best approach is to analyze competitors to determine an optimal balance.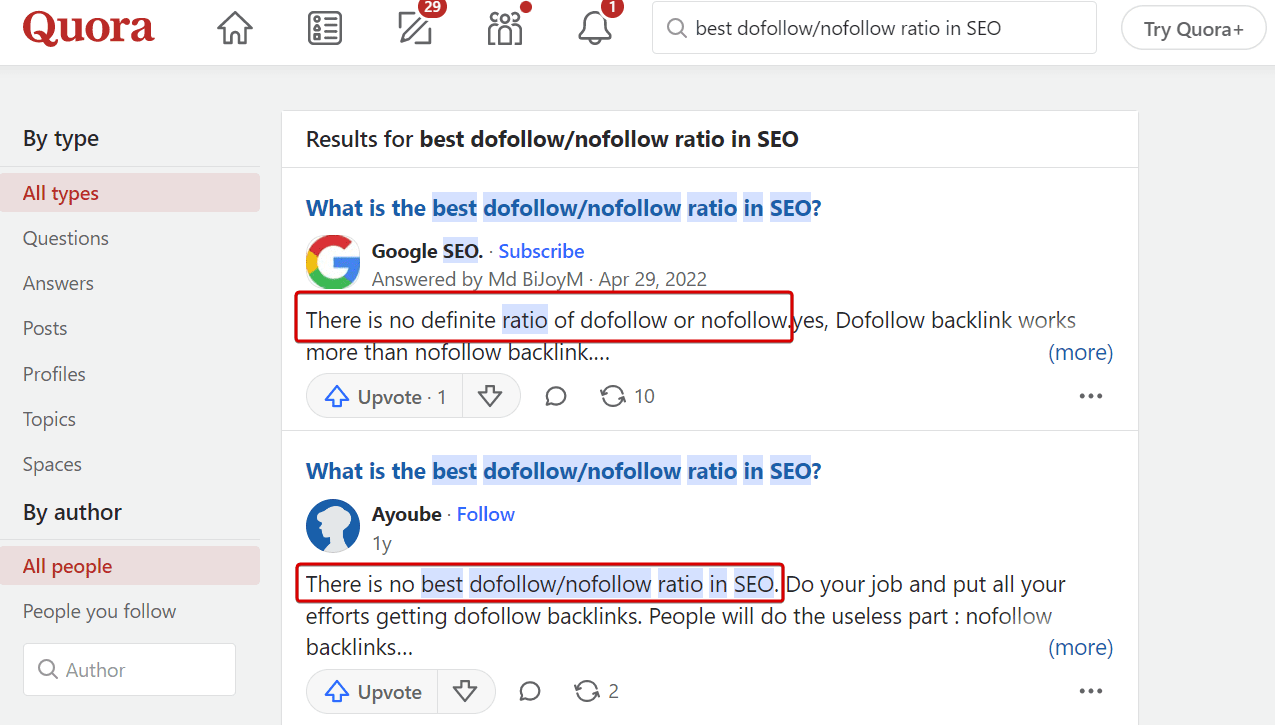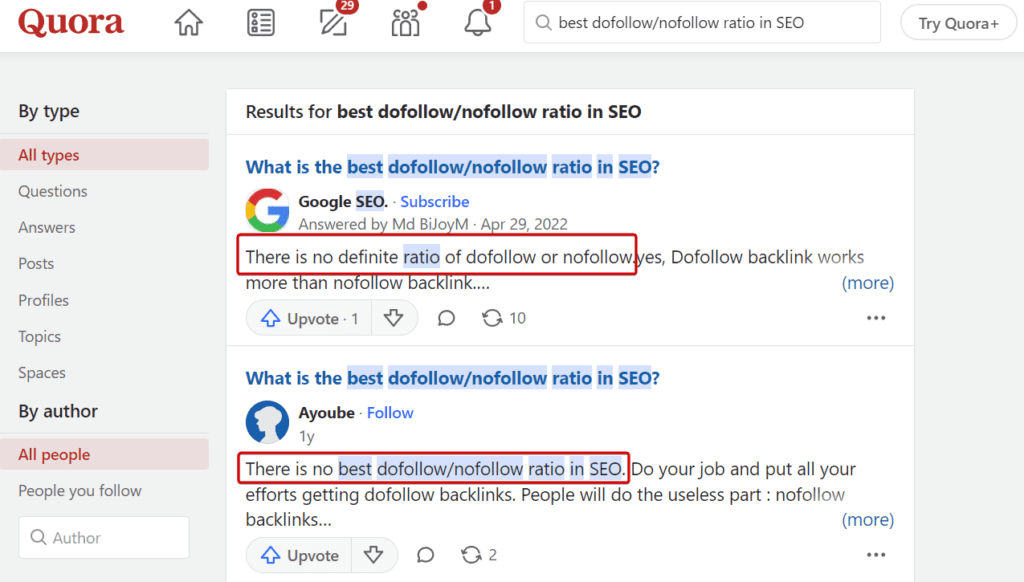 The main risk here is that you might end up paying extra for links or create an excessive number of nofollow links, which can reduce your ROI and effectiveness.
Link Placement
The location of links also plays a role in their effectiveness. Several types of links won't benefit your site:
Links placed on pages explicitly designed for selling links;
Links in footers and sidebars of sites;
Sitewide links appearing on every page of a site.
All of these types of links signal to Google that the links are not organic. In the best-case scenario, search engines will simply ignore them. How can you recognize such links? It's quite simple:
Links are sold in large packages at very low prices;
When you ask to see examples of link placement, they either refuse or show links from sidebars, footers, or link farms.
Your money should be invested only in links placed within quality, unique, and informative content. Additionally, the link should complement the information on the page.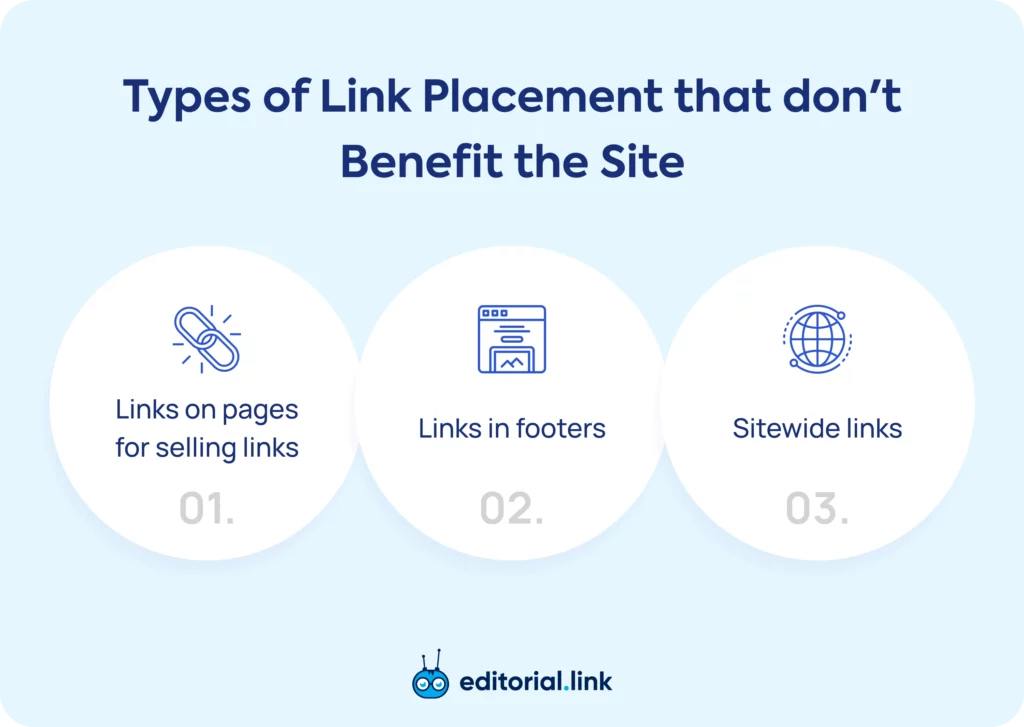 Pricing of Links and Its Factors
We have discussed why you need links, the risks associated with buying them, and how to select them. Now, let's talk about link pricing and the factors influencing it. Despite Google's pressure and risks, people continue to buy and sell links. So, what determines the price?
Link type: Crowd links are significantly cheaper than guest posts or editorial links;
Site SEO Metrics: High traffic, Domain Rank, and a strong backlink profile make links from such sites more expensive;
Content quality: If a site hosts high-quality content, features contributions from renowned experts, and has an engaged readership community, links from it can be quite costly;
Does the site buy links? If a site actively invests in new links, it will likely ask for a higher price to place an outbound link on your site;
Does the site sell links? Editorial links come from sites that do not sell links. They are more expensive because they require more time and effort to negotiate and prepare content.
Many other factors can influence the price, including the niche of the site and its domain zone. Some niches might have limited offers but high demand, leading to an increase in prices and the use of "black" or "gray" hat link-building methods.
What about the prices for link building and guest posts? There are a few interesting patterns here that the infographics below will show you.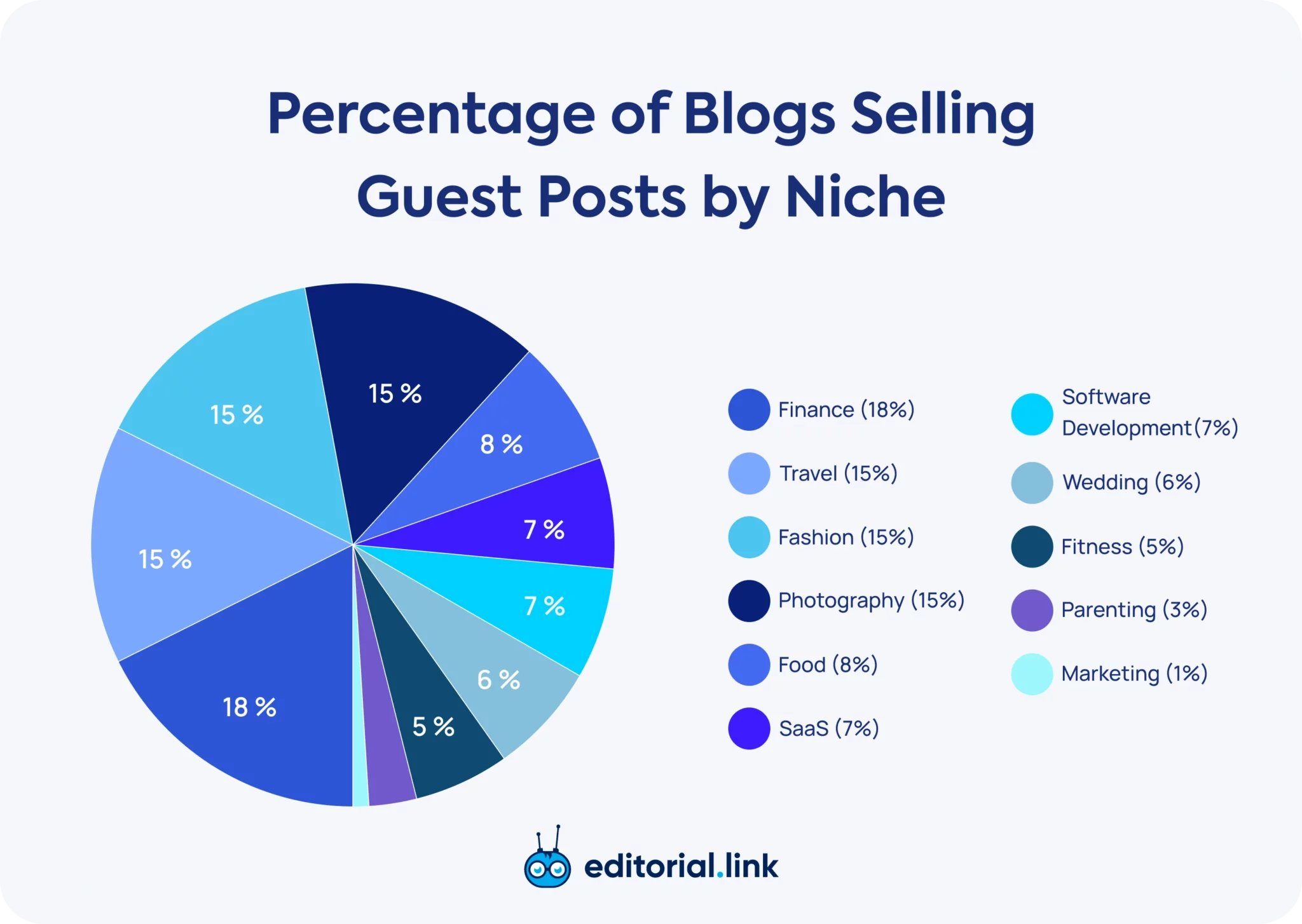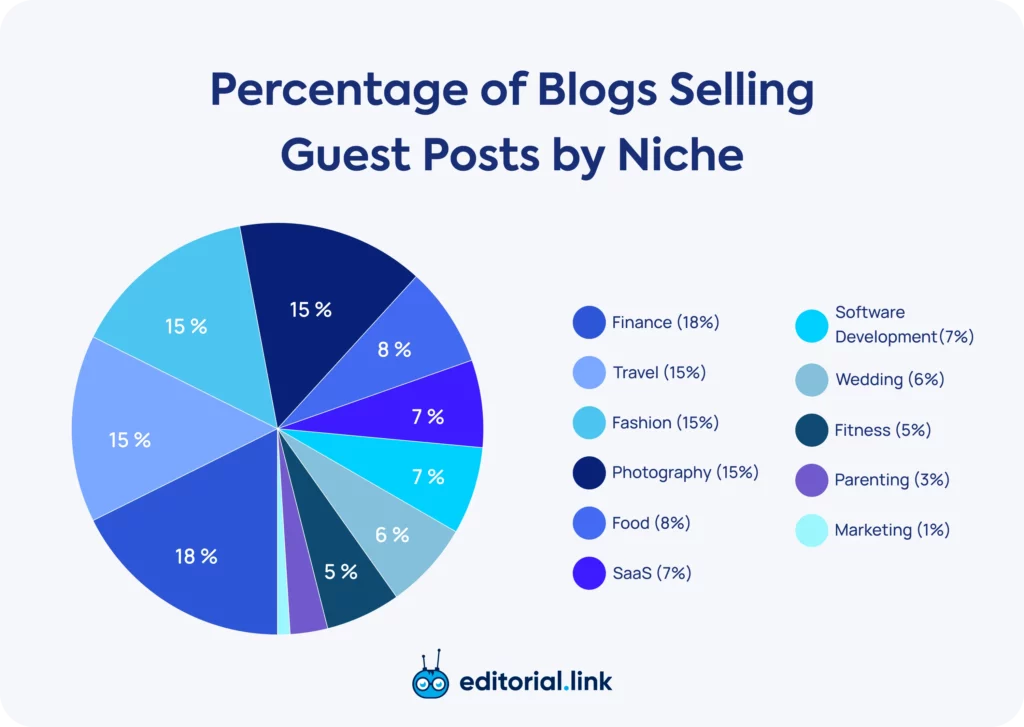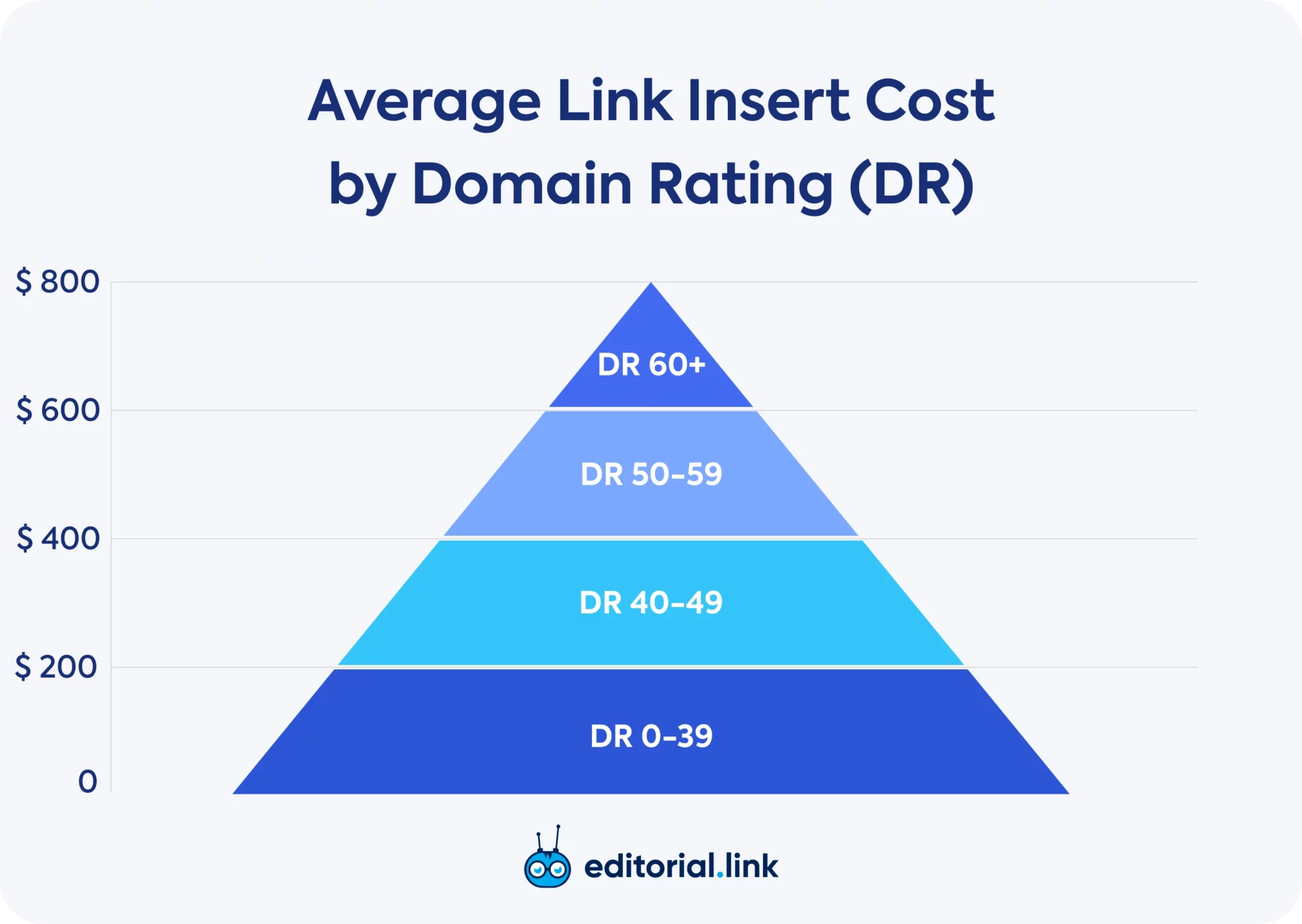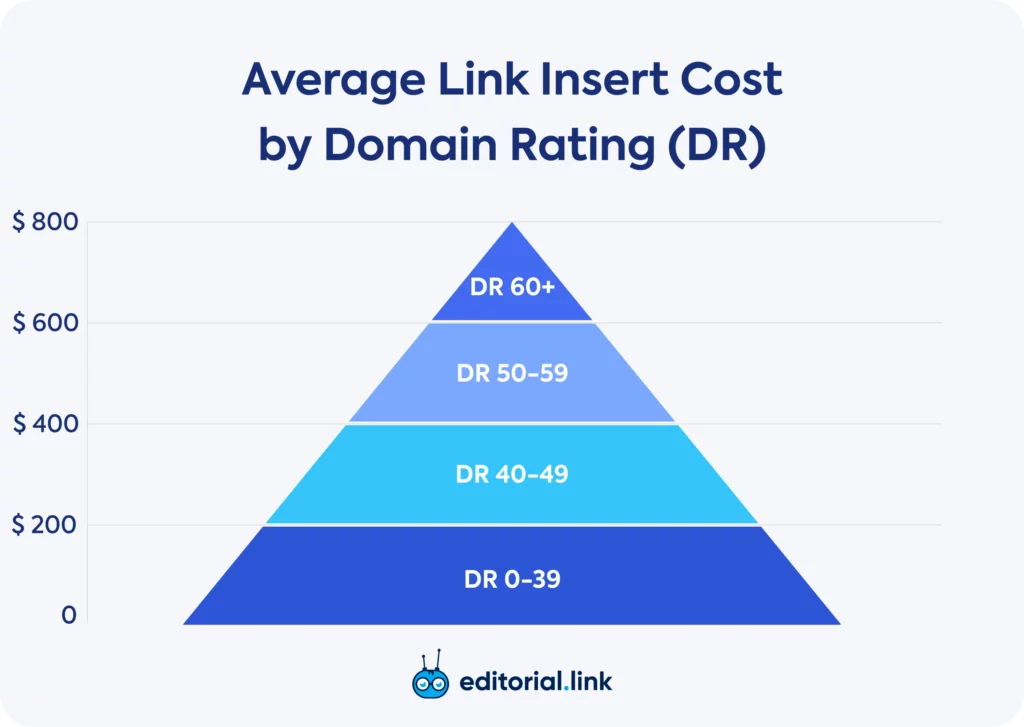 Now that we have explored the main risks and complexities associated with buying links, and you know how they can affect your site, the decision to buy backlinks is entirely up to you. However, I'll offer some advice to help reduce the risks associated with link purchasing:
Monitor Results: Even if you delegate link building, regularly monitor the results to understand the effectiveness of the process and make timely adjustments;
Strategic Approach: Never buy links randomly, independent of your other SEO activities. Your actions should align with an overall strategy;
Prepare Your Site: Before starting link building, optimize your site internally and technically, create high-quality content, regularly update materials, and ensure there are no issues with content indexation;
Analyze Competitors: Analyze your competitors' link profiles to find out what links they receive and determine the ratio of dofollow to nofollow links;
Diverse Anchor Texts: Study the anchor texts your competitors use for their links and make your anchor texts as diverse as possible. Avoid using direct commercial search queries as anchor texts;
Focus on Link Quality: Prioritize link quality over quantity. Reject proposals that offer numerous links for just a few dollars. Instead, focus on guest posts and editorial links that provide long-term benefits with minimal risks;
Unique Strategies: Choose different link-building tactics. Replicating your competitors' links works up to a point. To outperform them, you'll need links they don't have. Quality guest posts on sites with good SEO metrics and editorial links will be particularly vital and effective for you.
Indexation Time: Be patient with link indexation. You can speed up the process by improving the content you use for link acquisition. Additionally, you can build tier 2 and tier 3 links to accelerate indexation and increase traffic to your links.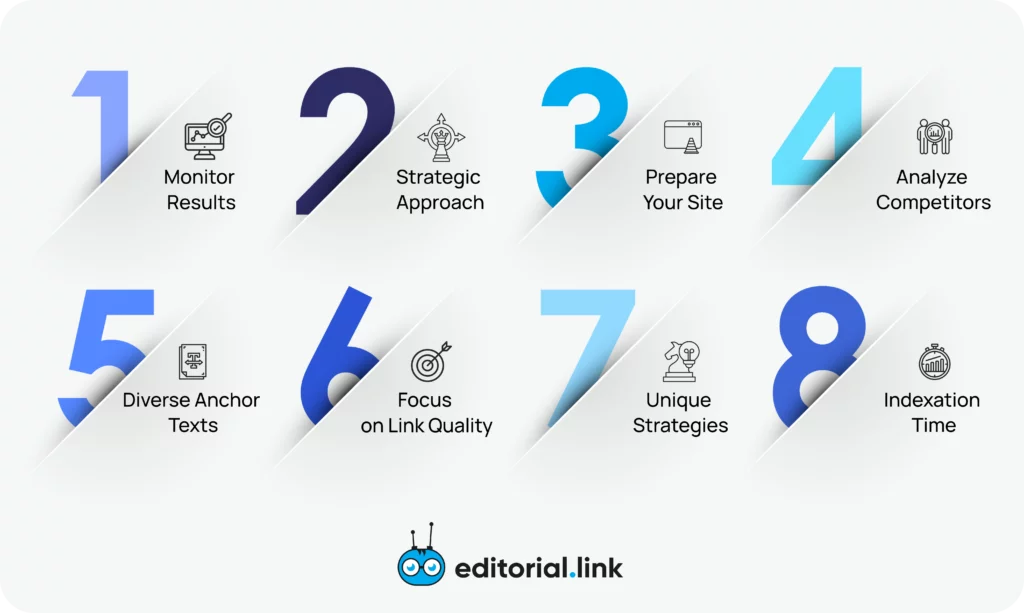 Remember two essential things:
White Hat Link Building: The more you focus on white hat link building, the better. So, concentrate on content marketing and ensure your content is visible to attract natural links;
Link Building Requires a Strategic Approach: Monitor key backlink profile indicators and site traffic. All these aspects can be managed by a professional link-building team, such as Admix Global's Editorial.Link.